What is Freight Class?
The freight transportation system is considered one of the biggest industries in the country. The U.S. Department of Transportation reported that freight class transportation impacts over 44 million jobs; which represent not only the millions of homes but the businesses that require freight in regular circumstances.
The freight class ranges from 60 to 400. For instance, cabinets are assigned with freight class number 110, whereas the refrigerator is included in freight class number 92.5.
LTL carriers determine the tariffs which are essential to pay for transporting goods. It clarifies the doubt and clearly states how much a carrier will cost you in shipping rates and fees.
The ups class calculator will help in finding the freight class ups as well as the density of your product.
Calculatored has many useful finance tools which you can use to make your calculations easy. You can our pv calculator & fv calculator for checking the actual and future value of your assets.
Freight class chart
Freight classes are the NMFC codes which are maintained by the NMFTA to standardize the shipping rates and important to determine the shipping rates for different kinds of products.
Related: Learn about the ROI and ROA and how can you calculate it.
The freight class code chart will tell you the shipping rates based on the density of the product. The following points should be considered while selecting your shipment's freight class.
| Freight Class | Example Shipments | Weight Range/Cubic Foot |
| --- | --- | --- |
| 50 | Nuts,bolts,steel rods | More than 50 LBS |
| 55 | Hardwood flooring,Paint | 30-50 LBS |
| 60 | Ceramic Tiles,bottle Liquids | 30-35 LBS |
| 65 | Car parts,boxes of books | 22.5-30 LBS |
| 70 | Foods item,boxed paper | 15-22 LBS |
| 77.5 | Tires,bathrooms fixures | 13.5-15 LBS |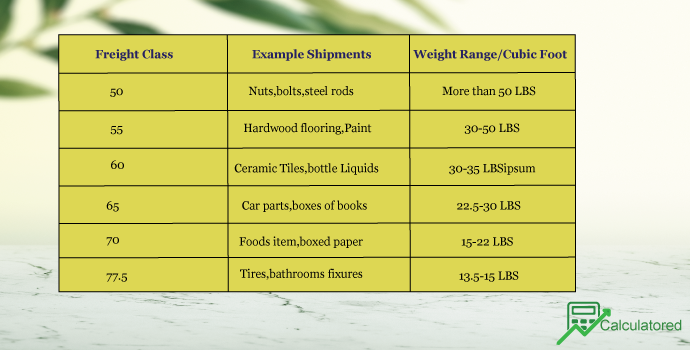 Related: Find useful online tools like margin calcultor and cagr calculator on this portal. Also learn every bit of detail of margin and its types along with the information regarding compound annual growth.
Density
Some products have pre-defined freight class but some commodities are examined by their densities and then assigned a specific number. Density refers to the total weight divided by cubic feet.
Furthermore, length, width, height, and weight are measured in the calculation. The ups freight class calculator determines them accordingly and tells the status of products.
Also find general tools which can help you making your calculations easy like we offer gst calculator and discount calculator. You can use these tools to increase your productivity regarding general calculations.
Storability
The freight class will be highest if your product has loading regulations, specific/irregular shapes, or the material which makes it difficult to load. Shipping class calculator helps you manage the storability issues. Storability will be lowest if you have regular, easy to carry products which have no specific loading regulations.
In both cases, shipment rates will be affected. To avoid any confusion in shipment rates you can use the freight density calculator.
Related: Learn everything regarding earning before interst, taxes, depreciation and amortization. You can use ebitda calculator to calculate ebitda on run time.
Handling and liability
The products which are expensive, hazardous, and fragile need specific loading guidelines. Hence, they have assigned the highest freight class.
Keep in mind that these are estimates based on the carriers which follow the freight classification only on density.
Some LTL carriers use specific guidelines to determine freight class. To measure your shipments properly, it is very important to have accurate data about your freight class classification. The above points are also considered in FedEx freight calculation.
To avoid confusion during shipment you can use a freight shipping calculator. Calculating length, width, height in inches, and weight in-lbs are ideal conditions in measuring yrc freight and the above shipping class calculator can also be used as a fedex freight class calculator.
Related: Learn everything about the depreciation regarding the assets. Also find the ways through which you can calculate it manually and by using an online calculator for depreciation.
What are NMFC codes?
National motor freight class transmission (NMFTA) determines freight classes. These classes are the measurements allowed for standard prices across all LTL freight carriers.
Almost every type of product of any size is included in a National Motor Freight Classification; these commodities are assigned a specific freight class number which is essential for LTL freight shipments.
All kinds of goods are divided into 18 freight classes and assigned specific NMFC number ranges from 50 and 500. If you have any doubts regarding your product's density you can use the freight class calculator.
FedEx quote has also been calculated using the fedex freight class calculator as it will also serve as a FedEx calculator.
Related: Find one of the coolest and efficient mortgage calculator on our website to calculate and track payments regarding mortgage.
How to use freight class calculator?
The above ups freight class calculator has been designed to keep in view the facility as well as accuracy. You just need to measure the length, height, and width of your product in inches and weight of the product in-lbs.
After clicking the option "calculate", freight calculator will show you the freight class, volume, and density of your product. UPS shipping has also followed these criteria in shipment. You can also use it as a UPS shipping calculator and find your UPS freight quote.
We hope this article and the calculator helped you in learning and understanding freight class. There are other useful tools you can use for free like we offer interest calculating tool which can be very helpful for you and your work.